Friday, February 9, 2024 | 6-9 pm
We are so excited to be an official host church for this year's Night to Shine, sponsored by the Tim Tebow Foundation. Night to Shine is an unforgettable prom night experience, centered on God's love, for people with special needs, ages 14 and older. On one night, hundreds of churches of different denominations from all over the world will come together to celebrate people with special needs!
Night to Shine is a complimentary event and while each event is a little different, some activities include a red carpet entrance complete with a warm welcome from a friendly crowd and paparazzi, hair and makeup stations, corsages and boutonnieres, a catered dinner, dancing, gifts, a Respite Room for parents and caregivers, a Sensory Room, and a crowning ceremony where every honored guest receives a crown or tiara!
To Register: click here
To Volunteer: click here
To Donate: email nighttoshinegpc@gmail.com
To learn more and see all the churches that are a part of this worldwide movement, check out www.timtebowfoundation.org.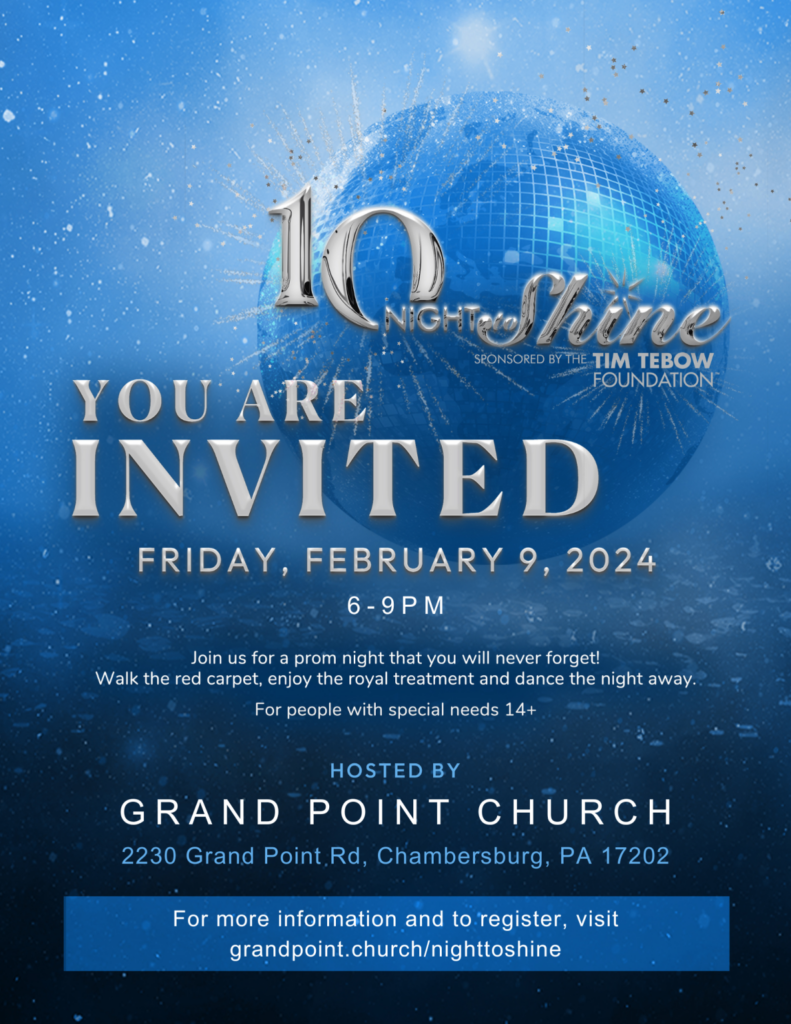 "I'm so excited that we will celebrate 10 years of Night to Shine this coming year! All around the world, people with special needs are going to be cheered for on the red carpet, dance the night away with their friends, be crowned a king or a queen of the prom… but most importantly, they're going to hear that they are loved by the God of this universe. We continue to be in awe of all God has done over the past nine years, but we believe He has even more in store. Every town, every village, every nation needs Night to Shine because we want every person with special needs to know that they are one of one, created in love, by love and for love."
Tim Tebow
founder of the Tim Tebow Foundation