Welcome to the Point Youth Ministry, where the excitement never ends and the sense of belonging is strong. Our mission is clear: we aim to guide students on a journey of discovery, deepening their understanding of Jesus Christ and fostering a thriving relationship with Him.
Our secret? We know that fun is a powerful tool in pointing students toward Christ. While each of our unique campuses has its own style, they all share the same values and mission. We've created one unified ministry that empowers students to learn, grow, and thrive in their faith, regardless of the campus they attend.
Safety is paramount, and we prioritize check-ins and full participation from every student. Let's dive into what each campus has to offer August – May.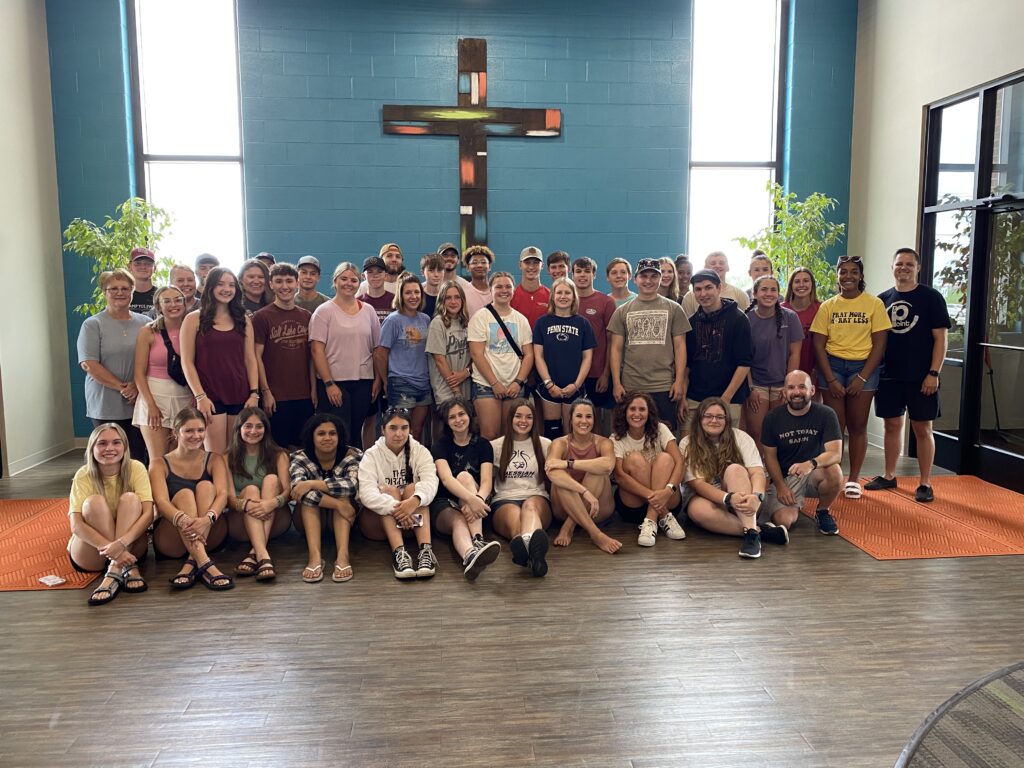 The PointYM – Chambersburg
Prepare to be amazed by our dedicated 7,000 square foot youth wing, where safety and excitement go hand in hand. Our Wednesday nights are filled with live worship led by our talented student worship team, Christ-centered messages, engaging small group breakouts called "Circle," and, of course, great snacks and fun games. Students can explore our youth center with its games, cozy lounge area, inviting café, and enjoy open gym time for basketball and other activities
Details:
Meeting Day: Wednesday evenings
Check-in/Flex Time: 6:00PM
Start Time: 6:30 PM
End Time: 8:00 PM
Location: Grand Point Church, 2230 Grand Point Road, Chambersburg, PA 17202
The PointYM – Shippensburg
Our new environment welcomes students to hang out in our large open space or relax in our custom lounge area. When the weather permits, they can engage in thrilling outdoor activities like basketball. Indoors, we offer an array of options, including ping pong and gaming systems. Each week, students experience engaging icebreaker games, Christ-centered messages, small group breakouts, and, of course, snacks that keep the energy high!
Details:
Meeting Day: Wednesday evenings
Check-in/Flex Time: 6:00PM
Start Time: 6:30 PM
End Time: 8:00 PM
Location: Grand Point Church, 246 S. Fayette Street, Suite 9, Shippensburg, PA 17257
The PointYM – Greencastle 
Nestled within the breathtaking Rhodes Grove Campground, our unique location offers an exhilarating youth group experience. Get ready for epic games of basketball and ping pong that ignite the competitive spirit in every student. We provide a variety of other exciting activities to ensure an unforgettable time. As the night unfolds, students dive deep into Christ-centered messages, participate in small group breakouts, and enjoy delightful snacks that leave them wanting more!
Details:
Meeting Day: Sunday evenings
Check-in/Flex Time: 6:00PM
Start Time: 6:30 PM
End Time: 8:00 PM
Location: Rhodes Grove Campground, 7693 Browns Mill Rd, Chambersburg, PA 17202
Stay Connected on Social Media
Facebook | Instagram | YouTube: ThePointYM
At the Point Youth Ministry, we utilize the power of fun to lead students on an unforgettable journey of faith, growth, and genuine connection. Come and experience the excitement that awaits you at our campuses. It's time to ignite your passion, deepen your relationship with Jesus, and be part of something extraordinary. Don't miss out—join us today!
Other Opportunities
Missions
Grand Point Church is a missions minded community that desires to see life change happen in our community and around the world. In the past the youth ministry has done missions work in Harrisburg, the Bronx NYC, and Central America, and will continue to provide missions opportunities for our students in the upcoming years. Being involved in missions has a way of helping students take a leap of faith and experience how important they are to the Kingdom of God.
Serving
At the heart of our ministries are caring leaders who volunteer their time and passion to serve our children and youth. All volunteers have undergone our background screening requirements and participate in our leadership covenant. Training meetings are offered throughout the year to equip our teams to take their own "next steps" as we encourage young people to do the same.
"How can I get involved?"
Interested in making an impact on the Next Generation? Ask about volunteer opportunities that work with a variety of schedules, interests, and experience levels! Stop by one of our welcome desks to pick up a volunteer packet.
Bible Quizzing
Bible quizzing is a great way for students to familiarize themselves with the Word of God. Quizzing is a competitive Bible memory program that helps students retain Biblical characters, stories, and verses, and travel to other churches, seeing how the body of Christ is interconnected across communities. Contact us if you would like more information!
Contact Us:
Scott Eckenrode – Director of Youth Ministry, Chambersburg & Central Services
Tucker Short – Director of Youth Ministry – Shippensburg & Greencastle
Cindy Magners – Youth Ministry Assistant