Inviting You to Give and Make a Difference!
At Grand Point Church, we believe in the power of generosity and the impact it can have on individuals, families, and communities. We invite you to join us in our mission to transform lives and spread the love of Jesus by giving generously.
We are incredibly grateful for your willingness to partner with us through your giving. Your generosity enables us to impact lives, bring hope to the hurting, and share the life-transforming message of Jesus. Together, we can make a significant difference in our communities and beyond. Your contributions, whether large or small, make a significant impact in the lives of individuals, families, and communities here in Pennsylvania and around the world.
Together, let us sow seeds of love, compassion, and hope, as we faithfully respond to God's call to give.

Together, let's make a difference and bring glory to God through our generous hearts.
In addition to regular cash donations in-person, by check, or online, you can also give with cryptocurrency or stocks!
If you have any questions or need further assistance regarding your giving, please don't hesitate to contact our church office. Thank you for being part of the Grand Point Church family and for your continued support.
Thank You for Your Generosity!
Ways to Give
Online Giving
Giving online is quick, secure, and convenient. Simply click  "Give Online."  You will be directed to our secure giving platform, where you can enter your donation amount and select your giving frequency (one-time or recurring). We accept various payment methods, making it easy for you to give with just a few clicks. Your generosity will help us impact lives and advance God's Kingdom.
Text-to-Give
Giving has never been easier with our Text-to-Give option. Simply text the word "grandpointchurch" to 77977. You will receive a prompt to enter your donation amount and follow the instructions to complete your gift. It's a simple and convenient way to give, especially if you're on the go or prefer using your mobile device. Your generosity will make a real difference in the lives of those we serve.
In-Person Giving
If you prefer to give in person, we would love to see you at one of our worship services. Simply bring your gift and place it in the offering during the designated time. Our ushers will be available to assist you and answer any questions you may have. Your act of giving in person allows us to connect and worship together as a community, united in our commitment to make a positive impact.
Mail-In Donation
If you prefer to give by mail, you can send your donation to our church office. Please make your check payable to Grand Point Church. Our address is:
Grand Point Church
2230 Grand Point Road
Chambersburg, PA 17202
Your contribution will be received with gratitude and used to support our ministries and outreach efforts.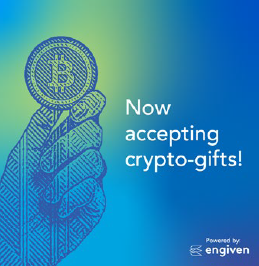 The future of giving is digital – and we've arrived!
We are now accepting donations of Bitcoin and 39 other cryptocurrencies on our website! We know that many of our congregants are crypto-owners so we wanted to create a seamless way for you to donate your crypto as a non-cash asset to support Grand Point Church. Donating cryptocurrency is tax-deductible and treated as a non-cash contribution by the IRS. Once you have submitted your donation online, you will receive an IRS compliant contribution receipt for all cryptocurrency gifts. The process is fast and extremely secure. Simply click the button below & choose "cryptocurrency" from the dropdown menu to get started. 
Thank you so much for considering donating your cryptocurrency to GPC. We are only able to make a difference because of the generosity of people like you!
Questions? Click here to review the FAQs!
Designated Giving Disclaimer
We understand the desire to direct a gift towards something you are passionate about, such as children or youth.
Unless a donation request is advertised for a special event, most areas are usually fully funded by budget dollars and the gift would be more beneficial to another ministry.
In cases like this, we reserve the right to add the gift to our General Fund, which is used to fund every area of ministry and is where all ministry budget dollars come from.
The more General Fund gifts we receive, the more we can budget for ministry areas as needed.
As always, we are extremely grateful for the gift, and the giver! If you have any questions, please reach out to Tony Diehl, Executive Director of Operations at tdiehl@grandpoint.church.